We serve the growing global demand of cross-border money transfers and cloud-based payment platforms adopted by international businesses, enterprises and individuals.
As the preferred alternative to banks, we currently set the standard for delivering customers superior exchange rates, sophisticated financial products and strategic planning, multi-currency accounts, wholesale bank notes, prepaid cards, and an award-winning payment platform.
With our growing global network of products and services we are focused on continuing to strengthen our presence by meetings the needs of our customers. We understand the value that trust brings in our industry which is why we continue to serve our clients with bespoke financial solutions and exceptional customer service.
Our global network has offices located in the UK, Ireland, France, Spain, Portugal, Netherlands, Germany, Belgium, Greece, Poland, Austria, Italy, Switzerland, Romania, Czech Republic, United Arab Emirates, Hong Kong, Australia, USA, Canada, Brazil, Singapore, Japan, China, India & South Africa.
Since our journey began, we have continued to help thousands of people around the world achieve their goals.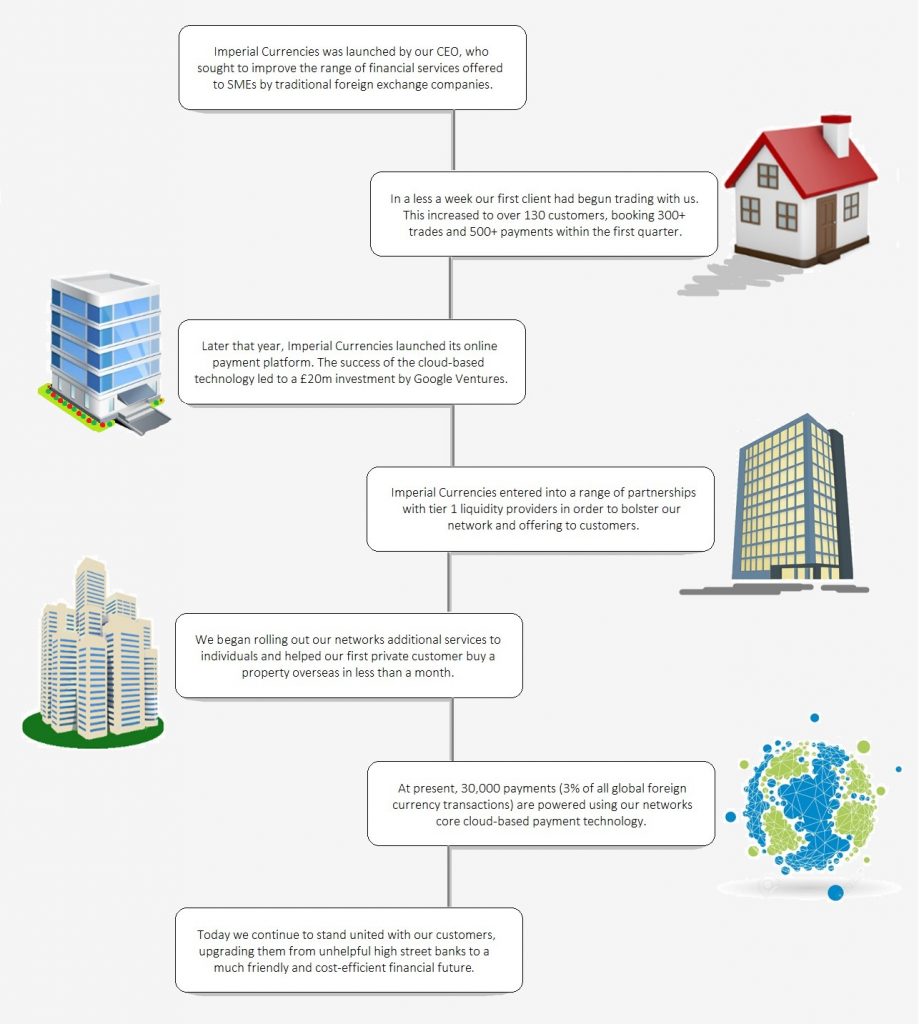 Media Enquiries

If you're a journalist with a question relating to Imperial Currencies anywhere in the world, send your query to [email protected] Our global press office is managed in-house and will will respond within 24 hours.
Our experience shows that our strongest indicator for annual growth is by putting the needs of our customers at the heart of what we do.

Great Company , Use every 2 weeks to send funds to china for my goods, easy and simple every time and fast payments, recommend
Have used them for a while now and service is prompt and easy. Brilliant
I have been using Imperial Currencies for a number of years.Fast payments and excellent rates. Extremely friendly professional staff.I would highly recommend this company to my friends and family.
Efficient, prompt, friendly service,competitive market rates
Fast and reliable. Glad I found them on Google.
Fantastic Service. I feel secure sending my money to this organisation, they keep in touch all the way in respect of your transaction. Would recommend to anyone sending money abroad
They are really friendly and helpful. I have worked with Joshua Kalinsky for over a year now and he has always been able to secure me the best exchange rates. Would recommend to anyone else looking for a currency guy.
Excellent service. Trustworthy, informative and professional. Best new supplier and saves us lots of greedy bank commission/charges. Like it a lot.
Really happy with the level of service from Imperial Currencies. Bradley Roth is a really great guy. He helped me get the best price for my money so that I could buy my home in Italy. In total I saved 3,500 EUR working with him.
Very pleased with imperial currencies so far. Every transaction has been very easy. Special mention to Jeannette Smith who is always helpful and responds very quickly to any questions I have. I've dealt with many currency brokers in the past and this company is by far the easiest, thanks to Sam....
We have just bought a property in Spain and needed to transfer 350,000 € from the UK. I visited London office and met Brad who was very obliging. Then, through no fault of ours, there was a delay in the purchase of 10 weeks. During this period Brad stayed in touch but did not use hardsell tactics; her "not too pushy" approach gave me the confidence to proceed once the time was right. Everything went smoothly and Brad was very professional and talked me through what is quite a daunting experience. Well done.
What excellent help and service. I had researched different companies, through Moneysavingexpert, as I was quite nervous at getting things right as I had never done this before and need to send money to China.The site was easy to navigate around and user friendly. I was contacted by Samuel from the company and was immediately made to feel at ease as she was both friendly and professional. I was left understanding the system as she had taken the time to help me do my first transfer. I now feel confident that I can send money again and hopefully at a good rate. Thank you.
Fantastic service. Used IC for the first time to transfer monies to the USA for a house purchase. Found them patient, easy to use and very knowledgeable. Extremely proactive in securing the best rate possible in a fluctuating market. Thanks to John Craven and Sam Jones for all their help and advice.
I used Imperial Currencies for my first transaction yesterday and thought it was going to be complicated as I am useless on the computer but it was incredibly easy and quick plus we got a better rate than the company we used before. I had excellent help from Sam from start to finish and will be using Imperial Currencies for all our euro payments from now on.
Imperial Currencies staff are always available when I need them whether it be a phone call or a prompt response to my email. I'm extremely happy with the personal service they give along with such good rates. Thanks
I found Imperial Currencies browsing for 'money transfer UK to France.' I was impressed by the help they gave setting up the account and also when I checked, the rates that they offer. Though this time it was a very small transfer, they were willing to woo me with a better rate as in future I expect to transfer larger sums. I look forward to using their services regularly as an expatriate living in France.
I found Imperial Currencies through a comparison website. I was a bit nervous about transferring my money with them. Sam Jones was awesome, he explained everything really clearly to me and in great detail. Great communication and confirmed all the steps to me. Would recommend
Certainly cheapest than the banks!Professional guidance!
Was fed up of being ripped off by banks so gave Imperial a shot and have not looked back since. I've saved thousands when converting thanks to better rates, management and no transfer fees.
Used twice and I really appreciated the business rates available to me. From memory I was able to get around 3 cents more than my bank for my Euros. Also recommended to my friend who was buying a property in Spain and she keeps singing their praises. She doesn't have FB but told me to let you know that you guys are great. I knew she'd be in good hands.
Fast service and friendly. Love working with Josh who has helped me navigate through some turbulent times and hedge accordingly, whilst always informing me of opportunities to take advantage of. Keep up the good work
Really cheap service, really fast delivery. Will continue using to pay for my retirement home.
Used them this week for the first time. Had never heard of them before. Pleasant people who delivered my money on time. Good job.
They cater to everyone. I needed a travel card, cash on delivery and a business account. They offered everything and even a personal account to help with my international travel expenses. Thanks for making it easier for me to move my money from one central hub.
Was introduced to Imperial Currencies through a close family friend. I agree with them entirely. Very supportive staff, who know exactly what they are doing. Very helpful setting up payments for me and a fair price for the service. Would also recommend!
I really trust these guys. They have really done a first class job at helping me send my money to my family in India. I had no problems and will always use them.
I came across Imperial Currencies whilst looking for a replacement currency exchange service. I spoke to Adam on the trading floor who was really supportive. He helped me set up my account and showed me how to use the platform to trade my money. Couldn't be happier since I've moved over and would highly recommend to anyone else looking for a professional currency exchange company.
My customers love using this service. So I thought I'd play my part and give them a review. I can honestly say that they are great at what they do. When they say that keeping customers satisfied is their priority they really do mean it. I regularly talk to my personal trader and she is always able to help ensure that when my customers pay my currency account that I can receive the money in full. I do find it funny to think I used to use my bank to deal with this in the past. Now I think Ill be sticking with this service for quite some time.
Always so professional, efficient and easy. The only company that I will use, couldn't recommend enough!
I really like how quickly they were able to send my money abroad.
Great service and support from the team at Imperial Currencies. Would highly recommend their foreign exchange services to anyone looking for a cheaper conversion service compared to banks.
No hidden costs, fees or commissions